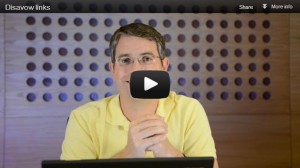 Yes it is true! The Google Link Disavow Tool has been released this week. Lots of discussion out there – but I would proceed cautiously before using. I think the best advice I heard was from Ana Hoffman, from Traffic Generation Cafe – basically she recommends to "let the sleeping dogs lie".
This type of announcement might fly underneath the radar of your weekly reading – so why care, or more importantly what does the link disavow tool do?
Here is a quick summary – bad inbound links can hurt your rank in the search engines (I think we all know that). However, sometimes the sites linking to your site you have little or no control over. So the Google Link Disavow Tool lets you do something about these random links by giving you a way to disown — or "disavow" — those sketchy links so they don't effect your ranking either way. Hope that makes sense?
I am not going into detail here – but for our clients who rely on us for Google+ Local Search and Link Building these are the type of things we are staying on top of for you. If you are interested in reading more you can read the two bets articles I found which explain all about the Google Link Disavow Tool and you can even watch a video of Matt Cutts, Googles finest seo guy) discuss it here: